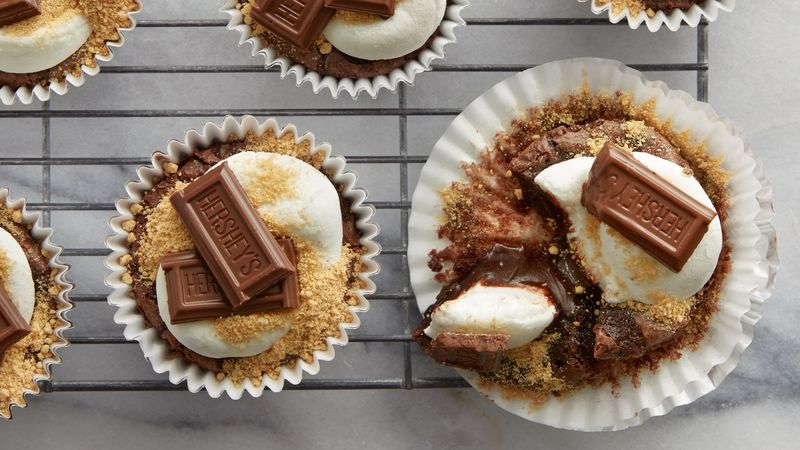 Ingredients
1. Box Betty Crocker™ fudge molten lava brownie mix
2. Water, oil and egg called for on brownie mix box
3. 12 large marshmallows, cut in half
4. 1/4 cup graham cracker crumbs
5. 2 bars (1.55 oz each) Hershey's™ milk chocolate, broken into 24 pieces
Steps
1. Heat oven to 350°F. Place foil baking cup in each of 12 regular-size muffin cups; spray bottoms with cooking spray.
2. Make brownie batter as directed on box. Fill muffin cups with about 2 heaping tablespoons of batter. Squeeze fudge pouch about 10 seconds. Cut 1/4-inch tip from corner of pouch. Divide fudge equally among muffin cups by squeezing a small amount on top center of brownie batter.
3. Bake 18 to 20 minutes or until edges and tops are set. Remove from oven, and top each brownie cup with two marshmallow halves; return to oven 1 to 2 minutes or until marshmallows are softened. Cool 5 minutes in pan. Remove from pan; cool 5 minutes. Top each with 1 teaspoon graham cracker crumbs and 2 chocolate bar pieces.